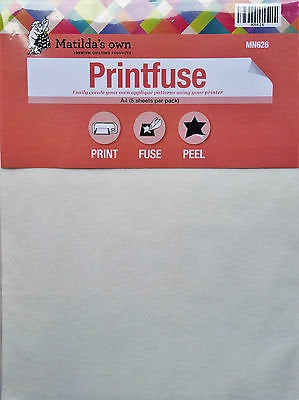 Print Fuse 5 Sheet Pack By Matilda's Own
Available: 0
Matilda™s Own Printfuse Printable Fusible Stabiliser Equivalent to Appli kay Wonder
Each sheet is A$ size, 5 sheets per pack.
Easily create your own appliqué patterns using your own printer, transfer your designs to Printfuse and then fuse to fabric to turn them into applique.
Matilda™s Own Printfuse is a pressure sensitive fusible stabiliser. It can be repositioned many times, however once heat is applied, Printfuse is permanently bonded to almost any fabric.
PRINT
* Prepare the print image to the correct size on your PC.
* Place one sheet of Printfuse into the printer tray and commence printing.
* Allow a few minutes for ink to dry.
FUSE
* Press the Printfuse to the wrong side of your fabric using a medium setting on your iron (no steam). The fusible side of Printfuse is the soft exposed side. Hold the iron in place for 3 seconds and then turn over and iron the fabric side.
* Once cooled, cut out your design.
PEEL
* Peel back the protective release paper to reveal the sticky surface. It is best to let the applique© cool before removing the paper.
* Position the appliqué onto your quilt or garment and press into place. (Can be repositioned many times).
* When happy with placement, press both the appliqué side and the fabric side for the best bonding. (Bonds permanently to most fabrics)

All orders will ship within 1-3 working days following receipt of payment. In most cases we will ship within 24 hours!
Delivery within New Zealand
Delivery within New Zealand is by Courier Post.
Shipping is free for orders over $100.00, except for rural deliveries which are a flat rate of $4.00. Orders under $100 will be charged at $6.00 for urban delivery and $10.00 for rural deliveries.
Bulky items are shipped at a flat rate of $15.
Delivery to Australia
We offer free shipping to Australia for all orders over $150.  Orders under $150 will be charged a flat rate of $15.00. 
International Shipping (excluding Australia)
We are happy to send to you wherever you are in the world! You will only be charged the actual price of shipping to you. When you order through the website it will charge you NZ$50 (don't panic we will only debit you the actual price of shipping. If you would like an estimate of shipping costs contact us before you order online.
---
On the rare occasion if your order gets lost in transit please let us know as soon as possible so that we can follow it up with our courier company and NZ Post. We will then be able to lodge an insurance claim for the order.