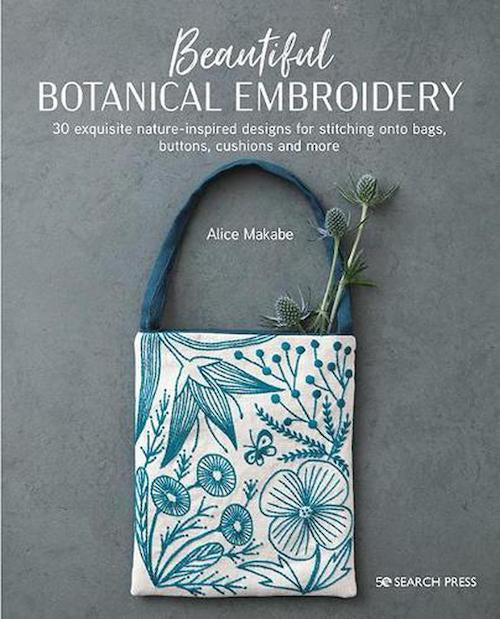 Beautiful Botanical Embroidery - Alice Makabe
Available: 4
Celebrate the beauty of botanical embroidery with this collection of 30 stunning projects designed by renowned Japanese embroidery artist, Alice Makabe.
As embroidery continues to grow as a contemporary craft of choice, discover the beauty of botanical embroidery with this collection of 30 exquisite motifs and projects inspired by flowers, fruit, foliage and other natural forms. Stitch your way through an assortment of elegant designs organized by colour, from pinks and subtle yellows to lush greens and moody blues. Learn how to use specific embroidery stitches to replicate the textures and shapes of flowers, leaves and stems. The book includes full-size, easy-to-follow templates and a useful embroidery stitch guide. As well as the beautiful embroidery motifs, there are also project instructions for creating gorgeous bags, aprons, pillow covers, pincushions, pouches and more.

All orders will ship within 1-3 working days following receipt of payment. In most cases we will ship within 24 hours!
Delivery within New Zealand
Delivery within New Zealand is by Courier Post.
Shipping is free for orders over $100.00, except for rural deliveries which are a flat rate of $4.00. Orders under $100 will be charged at $6.00 for urban delivery and $10.00 for rural deliveries.
Bulky items are shipped at a flat rate of $15.
Delivery to Australia
We offer free shipping to Australia for all orders over $150.  Orders under $150 will be charged a flat rate of $15.00. 
International Shipping (excluding Australia)
We are happy to send to you wherever you are in the world! You will only be charged the actual price of shipping to you. When you order through the website it will charge you NZ$50 (don't panic we will only debit you the actual price of shipping. If you would like an estimate of shipping costs contact us before you order online.
---
On the rare occasion if your order gets lost in transit please let us know as soon as possible so that we can follow it up with our courier company and NZ Post. We will then be able to lodge an insurance claim for the order.