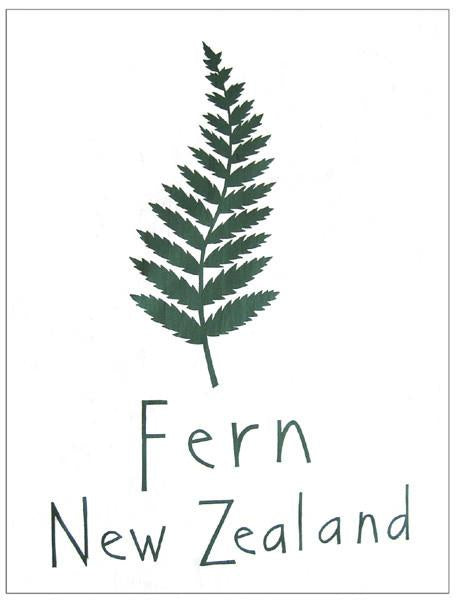 Fern Tea Towel
Available: 2
The Silver Fern or Ponga is a tall tree fern. The fronds form a shuttlecock shape and turn silver as they age. The Silver fern is New Zealand's national plant and the name of its netball team - the current world champioins!
These tea towels are the perfect purchase - iconic image, stylish design, necessary and inexpensive. They make a great gift because they are unbreakable and cheap to post. If they are not being sent around the globe how about buying one to jazz up a bottle of wine for that important friend? Tres chique!
750mm by 510mm ; 100% cotton; 180gsm.
Designed and printed in New Zealand.

All orders will ship within 1-3 working days following receipt of payment. In most cases we will ship within 24 hours!
Delivery within New Zealand
Delivery within New Zealand is by Courier Post.
Shipping is free for orders over $100.00, except for rural deliveries which are a flat rate of $4.00. Orders under $100 will be charged at $6.00 for urban delivery and $10.00 for rural deliveries.
Bulky items are shipped at a flat rate of $15.
Delivery to Australia
We offer free shipping to Australia for all orders over $150.  Orders under $150 will be charged a flat rate of $15.00. 
International Shipping (excluding Australia)
We are happy to send to you wherever you are in the world! You will only be charged the actual price of shipping to you. When you order through the website it will charge you NZ$50 (don't panic we will only debit you the actual price of shipping. If you would like an estimate of shipping costs contact us before you order online.
---
On the rare occasion if your order gets lost in transit please let us know as soon as possible so that we can follow it up with our courier company and NZ Post. We will then be able to lodge an insurance claim for the order.