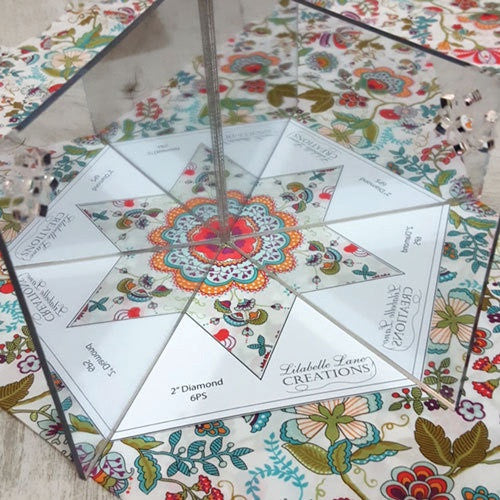 Fussy Cutting Mirror and Viewers Pack 1
Available: 4
This pack includes 10 Fussy Cutting viewers printed on cardboard and 1 Fussy Cutting Mirror.
Fussy Cutting Viewers Include;
• ¾ " Hexagon
• 1" Hexagon
• 1 ¼ " Hexagon
• 1" 6-Point Star
• 2" 6-Point Star
• 1" Jewel
• 1" Inverted Jewel
• 2" Jewel
• 2" Inverted Jewel
• 5-Point Star for La Passacaglia
Cut around the outer most triangle with your scissors or rotary cutter. Cut out the inner shaded area with an Exacto knife or similar.
Fussy Cutting Mirror
The Fussy Cutting Mirror is a great addition to any Quilter and English Paper Pieces tool box. It allows you to 'Explore the Possibilities' of fussy cutting. By simply positioning the mirror over your fabric you can see how your completed block will look before you even cut into your fabric. Amazing kaleidoscope effects can be achieved. The Mirror measures 5 ¼" Square. 
The Lilablelle Lane Fussy Cutting Mirror & Viewers are also available separately.

All orders will ship within 1-3 working days following receipt of payment. In most cases we will ship within 24 hours!
Delivery within New Zealand
Delivery within New Zealand is by Courier Post.
Shipping is free for orders over $100.00, except for rural deliveries which are a flat rate of $4.00. Orders under $100 will be charged at $6.00 for urban delivery and $10.00 for rural deliveries.
Bulky items are shipped at a flat rate of $15.
Delivery to Australia
We offer free shipping to Australia for all orders over $150.  Orders under $150 will be charged a flat rate of $15.00. 
International Shipping (excluding Australia)
We are happy to send to you wherever you are in the world! You will only be charged the actual price of shipping to you. When you order through the website it will charge you NZ$50 (don't panic we will only debit you the actual price of shipping. If you would like an estimate of shipping costs contact us before you order online.
---
On the rare occasion if your order gets lost in transit please let us know as soon as possible so that we can follow it up with our courier company and NZ Post. We will then be able to lodge an insurance claim for the order.