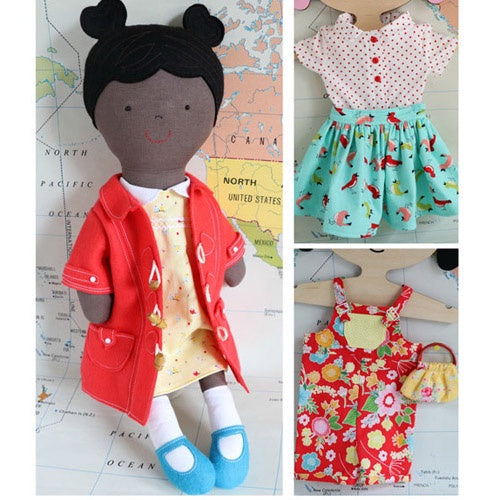 Ginger
Available: 1
Pattern includes doll with reversible dress, coat, bag, reversible skirt, shirt, shorts and overalls.
Ginger loves to swap and share her clothes with her friend Tilly.
Finished Doll approx 23 inches high
To make Ginger and all her clothes you will need:
Requirements:

13" (25 cm) linen or cotton for doll
10" square (25 cm) wool felt for Ginger's hair
6" square (15 cm) shoe coloured felt
7" square (18 cm) cotton for undies
8" square (20 cm) stabiliser for embroidery
One pair of 4.5 mm safety eyes
12 inch fabric for socks and dress collar
1 fat quarter for dress and same for lining
1 FQ cotton for skirt and same for lining
1 FQ for shirt
4 x 6 inches fabric for bag
1 FQ Wool fat for coat
1 FQ cotton for overalls
9 inches x width of fabric for skirt and same for lining
1 pair 15mm bar slide, on epair 50mm D Rings, 6 wooden toggles for coat, 18 inches naroow cord, 12 inches ric rac, assorted buttons, stuffing.

All orders will ship within 1-3 working days following receipt of payment. In most cases we will ship within 24 hours!
Delivery within New Zealand
Delivery within New Zealand is by Courier Post.
Shipping is free for orders over $100.00, except for rural deliveries which are a flat rate of $4.00. Orders under $100 will be charged at $6.00 for urban delivery and $10.00 for rural deliveries.
Bulky items are shipped at a flat rate of $15.
Delivery to Australia
We offer free shipping to Australia for all orders over $150.  Orders under $150 will be charged a flat rate of $15.00. 
International Shipping (excluding Australia)
We are happy to send to you wherever you are in the world! You will only be charged the actual price of shipping to you. When you order through the website it will charge you NZ$50 (don't panic we will only debit you the actual price of shipping. If you would like an estimate of shipping costs contact us before you order online.
---
On the rare occasion if your order gets lost in transit please let us know as soon as possible so that we can follow it up with our courier company and NZ Post. We will then be able to lodge an insurance claim for the order.