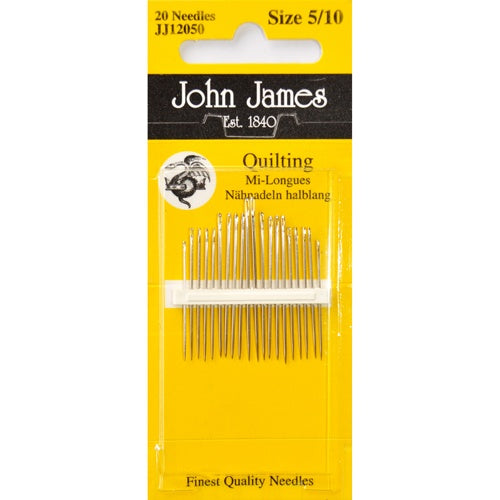 John James Quilting Needles 5/10
Available: 6
Quilting sewing needles are sometimes referred to as Betweens needles and are a very short and fine needle with a round eye. Traditionally they were used by tailors and professional sewers and today they are most commonly used in the art of quilting. The short length allows the quilter to create quick and even stitching.
Sizes range from size 5 to size 12 and we recommend a beginner to use a size 5, 7 or 8.
The experienced quilter will use the finer sizes such as a size 10 allowing even smaller stitches to be created.
This is a mixed pack with sizes from 5 to 10.

All orders will ship within 1-3 working days following receipt of payment. In most cases we will ship within 24 hours!
Delivery within New Zealand
Delivery within New Zealand is by Courier Post.
Shipping is free for orders over $100.00, except for rural deliveries which are a flat rate of $4.00. Orders under $100 will be charged at $6.00 for urban delivery and $10.00 for rural deliveries.
Bulky items are shipped at a flat rate of $15.
Delivery to Australia
We offer free shipping to Australia for all orders over $150.  Orders under $150 will be charged a flat rate of $15.00. 
International Shipping (excluding Australia)
We are happy to send to you wherever you are in the world! You will only be charged the actual price of shipping to you. When you order through the website it will charge you NZ$50 (don't panic we will only debit you the actual price of shipping. If you would like an estimate of shipping costs contact us before you order online.
---
On the rare occasion if your order gets lost in transit please let us know as soon as possible so that we can follow it up with our courier company and NZ Post. We will then be able to lodge an insurance claim for the order.