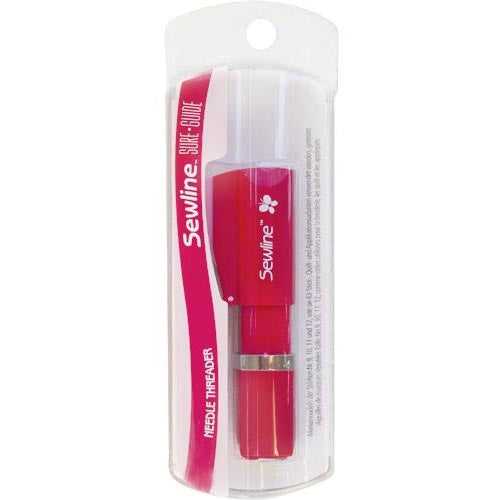 Sewline Needle Threader
Available: 5
Our new, improved model for threading fine needles size 9-12.
The case slides open to reveal a clever mechanism. Simply insert the needle with the eye facing open to the threader pin, push down on the lever to test. If you feel resistance, Stop, the needle is not correctly aligned. Realign needle and retest.
Once correctly aligned, lay the thread into the "V" groove.
Then press the lever to guide the threader pin and thread through the needle eye. Remove the now threaded needle.
The new "sure guide" button ensures that if the needle is inserted incorrectly, the threader pin is protected. However, care must still be taken to ensure the needle eye is open to the threader pin.
Use with a gentle touch, do not force.
We recommend you view the demonstration video to ensure correct use.
The bottom of the case hides a clever storage area and handy magnet. There is a thread cutter on the underside. This cute threader is a must for any sewing basket.

All orders will ship within 1-3 working days following receipt of payment. In most cases we will ship within 24 hours!
Delivery within New Zealand
Delivery within New Zealand is by Courier Post.
Shipping is free for orders over $100.00, except for rural deliveries which are a flat rate of $4.00. Orders under $100 will be charged at $6.00 for urban delivery and $10.00 for rural deliveries.
Bulky items are shipped at a flat rate of $15.
Delivery to Australia
We offer free shipping to Australia for all orders over $150.  Orders under $150 will be charged a flat rate of $15.00. 
International Shipping (excluding Australia)
We are happy to send to you wherever you are in the world! You will only be charged the actual price of shipping to you. When you order through the website it will charge you NZ$50 (don't panic we will only debit you the actual price of shipping. If you would like an estimate of shipping costs contact us before you order online.
---
On the rare occasion if your order gets lost in transit please let us know as soon as possible so that we can follow it up with our courier company and NZ Post. We will then be able to lodge an insurance claim for the order.