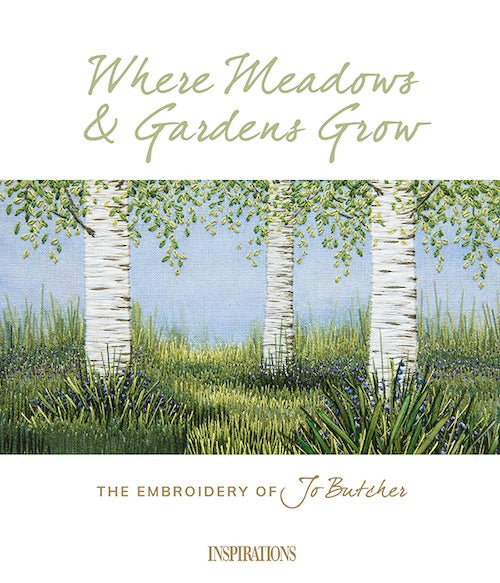 Where Meadows & Gardens Grow
Available: 2
Re-create the wonder and beauty of twelve picturesque scenes, as you join Jo on her journey to capture the realism of nature using her trademark layering technique, combining a simple watercolour wash, a handful of embroidery stitches and a palette of the prettiest colours.
'Where Meadows & Gardens Grow features the following projects:

Seascape

The water greets the sky surrounded by cow parsley, daisies and a scattering of tiny flowers

Hollyhocks

Elegant spires, in shades of dusky pink and soft green, stretch towards the sky

Bluebells Under the Birches

A carpet of pure, blue flowers spreads beneath a canopy of birch leaves

Topiary in the Border

Perfect topiary spheres rise above a colourful sea of iris, geum, verbena and echinacea flowers

Amongst the Daisies

A field of fresh, white daisies, some crowned with a golden eye, spread beneath the sun

Irises

Rich, velvety petals of the purple iris rise above a sea of sword-like leaves

Cottage Garden

Swathes of flowers, large and small, meld together in perfect harmony

Alliums &Topiary

Globes of purple allium flowers echo the neatly clipped sphere of a topiary ball

Silver Birches

Graceful trunks of ghostly white rise through a woodland garden of ferns and cow parsley

Foxgloves

In every shade of pink, proud foxgloves stand sentinel over their garden companions

Cow Parsley

The delicate lace of white cow parsley flowers decorates a field of wheat

Poppies & Cornflowers

Papery, pink skirts of poppy flowers twirl amongst the cornflowers

All orders will ship within 1-3 working days following receipt of payment. In most cases we will ship within 24 hours!
Delivery within New Zealand
Delivery within New Zealand is by Courier Post.
Shipping is free for orders over $100.00, except for rural deliveries which are a flat rate of $4.00. Orders under $100 will be charged at $6.00 for urban delivery and $10.00 for rural deliveries.
Bulky items are shipped at a flat rate of $15.
Delivery to Australia
We offer free shipping to Australia for all orders over $150.  Orders under $150 will be charged a flat rate of $15.00. 
International Shipping (excluding Australia)
We are happy to send to you wherever you are in the world! You will only be charged the actual price of shipping to you. When you order through the website it will charge you NZ$50 (don't panic we will only debit you the actual price of shipping. If you would like an estimate of shipping costs contact us before you order online.
---
On the rare occasion if your order gets lost in transit please let us know as soon as possible so that we can follow it up with our courier company and NZ Post. We will then be able to lodge an insurance claim for the order.